»
»
»
Workrite Ciglio LED Under Cabinet Lighting - Energy Efficient
The Workrite Ciglio 2's bright, warm and evenly diffused light output makes it the perfect choice for detailed task and office work. The new touch strip control provides intuitive dimming from 15–100% as well as instant on/off control. At full power, Ciglio delivers an impressive 400 lumens per foot. To save energy when you are away, select the optional integrated passive infrared occupancy sensor. The sophisticated design provides superior flexibility in fixture positioning. Single units can be positioned in any direction and daisy chain fixtures can be sequenced in any direction. Ciglio's slim profile and understated finish options will complement virtually any interior. Ciglio 2— the new benchmark in quality and performance for under-cabinet lighting.
Available in Sterling Silver.
Ships in 3 days.

Three Length's Available: 16", 28" and 38"

Series or individual daisy chain control

Expandable design: Link up to 80 inches of actual light fixture

Optional occupancy sensor available - Turns light off after 15 minutes of inactivity and instantly back on when activity is detected

Quick mount installation kit

Bright white light output 3100K, CRI: 83, R9: 21

Easy to operate touch sensivitve switch

Intuitive, sliding touch strip control with continuous range dimming to 2%

UL certified, Energy Star

5 Warranty on Fixture

65 W transformer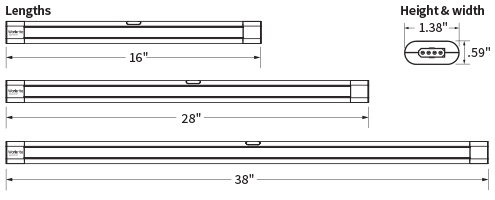 Our Company
Our Policy
Commercial Products
Work from Home Products
Ergonomic Learning Tools