»
Ind S2F Tilt - Industrial Stool
Ind S2F Tilt 2 Level Spiderbase - Industrial STOOL on 22" Spider Base with Dual Height Foot Support - 7" and 9.5". Back Height, Back Angle and Seat Height and Tilt adjustments. 1 1/4" Glides - standard. Caster Available. Backrest: 17" W X 19" H. Seat: 20" W X 19"D. 200 MM Pneumatic Lift: 21" - 33.5" Height Range. 22" Spider Base with 1 1/4" Glides - Standard. Available with various Armrest options. Also available in Fabrics, Vinyl, and ergoCentric+Guard (Healthcare Vinyl).
Ships fully assembled within 10 business days.
Backrest:
17" Wide x 19" High

Full Upholstered Dual Curve Backrest

Knob Height Adjustable for Lumbar Placement

Seat:
20" Wide x 19" Deep

Dual Density Seat Foam

Eight Ply Hardwood Seat Structure
Three Lever Control:
Seat Height Adjust


Back Angle Adjust

Seat Angle Adjust

Pneumatic Lift (Seat Height):
200mm Pneumatic (21" - 33.5") - Standard
Base:
22" Bi-level Spider Base with Durable Urethane Coating


Footrests: 7" and 9.5"

1/2" Industrial Glides Standard

Options Available:
Extra Small Seat - 17.5" W x 15.5" D


Small Seat - 18.5" W x 17" D

Variety of Caster Options


Memory Foam Seat Pan

Triple Density Foam Seat Pan

Anti Static (fabric and vinyl only)


Class 100 Cleanroom

ergoCentric+Guard Sealed Seat

Warranty:
5 Year Warranty for weights up to 280 lbs.


Lifetime warranty on pneumatic
Weight: 40 lbs.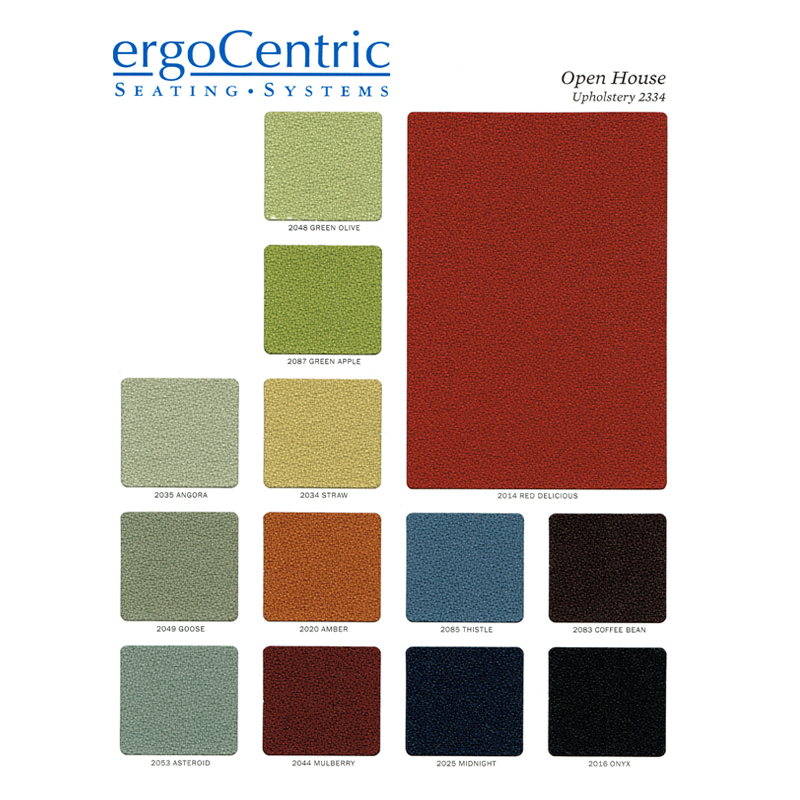 Our Company
Our Policy
Commercial Products
Industrial Products