»
CESSI:Ergonomics - Ergonomic Seminars & Training
Seminars & Training
General Management Seminars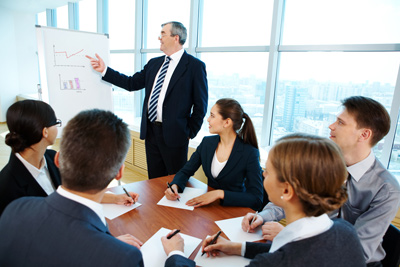 Developing and managing a successful Ergonomics Program requires commitment from top management teams. Objectives should be clearly defined, understood and communicated to the organization so ergonomics becomes part of the business culture.

Steps involved:
Commitment goals of management to its people
Management promotion for a healthier workforce
Encouraging employee commitment and loyalty
Improvements in sustainable productivity gains
Reduction in workers compensation costs
Fostering change as business, technology and its people evolve
Call us for a quote.
Managing an Ergonomic Process
Managing an Ergonomics Committee with key employees requires team-driven collaboration. Ergonomic standards and compliance training is imperative for those who are selected to develop policies and procedures for their company.
Steps involved:
Developing an ergonomic program customized for your business
Musculoskeletal Disorders (MSDs) Signs and Symptoms
Methods of job task analysis
MSD reporting and recording
Making reasonable accommodations to correct the job hazard
Selection of ergonomic equipment modifications
Program evaluation to determine control of risk factors
Call us for a quote.
Ergonomic Team Employee Evaluators
This program provides an interactive format designed to expand ergonomic knowledge and develop self-sufficient ergonomic team evaluators to handle ergonomic assessments, employee education, implement corrective actions and provide a safer workplace environment. Participants learn to evaluate employees' discomfort issues, make appropriate ergonomic equipment recommendations and provide follow-up result assessments.
Steps involved:
Performing a workplace assessment
Identifying at risk awkward work postures
Neutral posture training for employee being assessed
Considering workstation design and layout
Providing workplace equipment recommendations
Reducing exposure to workplace hazards
Measuring control of risk factors
Call us for a quote.
Ergonomics 101
Businesses are very wise to provide ergonomic training for their employees. When people understand the association between discomfort in the workplace and the types of awkward body postures they assume to do their work, they feel empowered to make positive changes for their improved health.
Steps Involved:
Introduction to ergonomic principles
Interrelation and placement of working tools
Benefits of good workplace ergonomics
Effects of poor workplace ergonomics
4 crucial points for workplace set-up
Solutions to workplace discomfort issues
Employee responsibility for personal working methods
Call us for a quote.
Employee Education & Training
This unique program is created to address the specific type of office furniture, chairs and computer components your employees use daily. The majority of your workforce are not sure how to adjust their chairs properly for their stature, arrange their workstations for immediate reach work zones or understand which levels are appropriate for keying, mousing and viewing the monitor.
Steps involved:
Neutral posture training
Learning about the hows and whys of chair adjustments
Setting up your computer components on center-line
Principles of keying and mousing levels, placement and wrist support
Understanding how high and far your monitor should be placed for vision issues
Reference document management
Benefits of good workplace ergonomics
Call us for a quote.
Personal Protection Equipment for Office Environments
In industrial and manufacturing facilities Personal Protection Equipment (PPE) is required for all workers to use which aids in preventing injuries. Office management employees may not be aware that there are also ergonomic compliance standards for offices too. Learn how your company can provide workplace adjustability modifications to meet current ergonomic standards.
Steps involved:
Ergonomics is both individual and application specific
Office ergonomics neutral working postures
Accommodating a broad range of workers
4 crucial points for workplace set-up
Identifying ergonomic risk factors in offices
Selection of ergonomic equipment modifications
Providing ergonomic workplace and equipment training for employees
Call us for a quote.