»
»
»
Leader 6 Straight - Adjustable Keyboard System
The Leader 6 Straight Surface Keyboard System is designed for use on straight worksurfaces. The 27" wide platform allows for left or right mouse positioning on the same surface as the keyboard. The Lift and Lock height adjustable mechanism provides easy adjustment, without levers or knobs, for height adjustment. A teflon glide track insures that stowing the system remains easy throughout the life of the product. A full length medium density foam palmrest provides support while keying and mousing to promote a neutral wrist position while working. It is available in 17" or 22" track depths to fit any worksurface depth.
Installation Services are available in most Continental US locations.
This items ships in 3 business days.
Keyboard Platform Features:
Accommodates Left or Right Hand Mouse Location on Same Level as Keyboard


Mouse-trap keeps mouse in place during adjustments

1/4" thin phenolic platform


Full length medium density foam keyboard and mouse palmrest

Platform accommodates straight and curved keyboards

Keyboard Mechanism Features:
Leader Mechanism with 17" or 22" Teflon glide track

Lift and lock mechanism ensures effortless lever-free height adjustment


Height range: 2.38" above to 6.5" below surface

Tilt range: -20 degrees to +10 degrees (Positive Tilt NOT Recommended)

360 degree swivel

Patented dial allow for easy tilt adjustment


Maximum knee clearance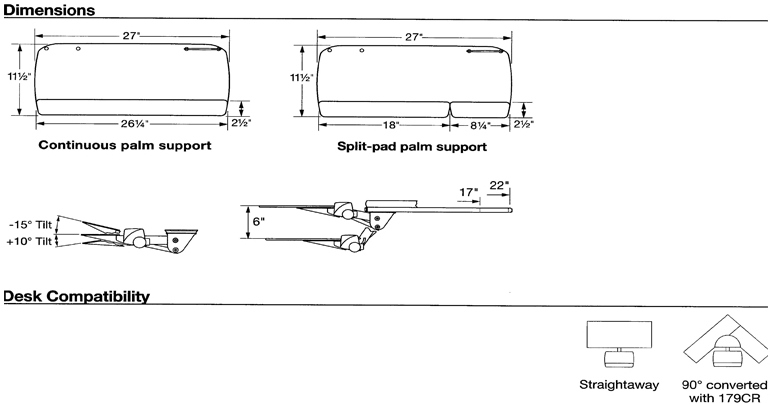 ISE Leader Keyboard System Adjustment
Our Company
Our Policy
Commercial Products
Work from Home Products
Ergonomic Learning Tools