»
»
Work From Home Offices / Virtual School Ergonomics
Work From Home Offices / Virtual School Ergonomics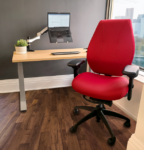 Home Office Ergonomics are designed to help people work in good comfortable postures while using computer technologies throughout the work day.
A comfortable workstation can provide you with the environment you need to efficiently perform your work and also prevent long-term injuries caused by repetitive motions and improper workstation postures.
Key areas of your workspace to pay attention to:
Chair Height: The chair height should be raised so that your arms and hands are parallel to the keyboard on the work surface. If you are small statured, you will need to raise the chair height and add a footrest to support your legs. Feet should be flat on the floor (or on a footrest) with your knees at a 90 degree angle.
Lower Back Support: sit to the back of your chair and raise or lower the backrest until the lumbar support fits into the curve of your lower back.
Monitor Height and Distance: position monitor(s) directly in front of you with the top of monitor(s) at eye level. Additional adjustments may be necessary when using multiple monitors. Screen should be about 20 inches or arms length away.
Keyboard Positioning: your full-size keyboard should be directly in front of you and align the center of your body with the 'Y" key on keyboard. When using laptops - a full-size keyboard is also recommended.
Mouse Positioning: keep your mouse as close to the keyboard as possible with your elbows close to your body.
Using the above workstation setups will maximize your comfort and minimize the following types of pain:
Carpal Tunnel Syndrome - Wrist Pain
Neck and Shoulder Pain
Lower Back Pain
Leg Discomfort
Vision Fatigue
Working from home, or even virtual school, can be just as safe as working in your ergonomically-correct commercial office.
Let us know if you have any additional inquiries or need a more in depth Home Office Ergonomic Assessment.